How to Have a Relationship with God from the Bible

1. The reason we do not have a relationship with God is because of sin.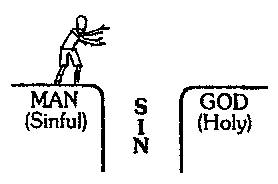 Rom 3:23 for all have sinned and fall short of the glory of God, (NKJ)

Ecc 7:20 For there is not a just man on earth who does good and does not sin. (NKJ)

Isaiah 59:1-2 Behold, the LORD'S hand is not shortened, that it cannot save; nor His ear heavy, that it cannot hear. 2 But your iniquities have separated you from your God; and your sins have hidden His face from you, so that He will not hear. (NKJ)




2. Men try to approach God in many ways, but cannot meet the standards God expects.

Every way of approach unto God misses the mark. We are simply unable to approach God through our own good works or our own good deeds. Jesus Christ alone is the only solution.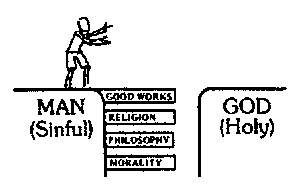 Isaiah 64:6 But we are all like an unclean thing, and all our righteousnesses are like filthy rags; we all fade as a leaf, and our iniquities, like the wind, have taken us away. (NKJ)

Romans 3:20 Therefore by the deeds of the law no flesh will be justified in His sight, for by the law is the knowledge of sin. (NKJ)

Ephesians 2:8-9 For by grace you have been saved through faith, and that not of yourselves; it is the gift of God, 9 not of works, lest anyone should boast. (NKJ)

Galatians 2:16 knowing that a man is not justified by the works of the law but by faith in Jesus Christ, even we have believed in Christ Jesus, that we might be justified by faith in Christ and not by the works of the law; for by the works of the law no flesh shall be justified. (NKJ)

3. Jesus Christ is God's solution. He died for our sins and rose from the grave.

Jesus loved us and has bridged the gap by paying for our sins. Through His death on the Cross, God is able to offer us His love, a relationship with Him, and eternal life!


John 14:6 Jesus said to him, "I am the way, the truth, and the life. No one comes to the Father except through Me. (NKJ)

Romans 3:20 Therefore by the deeds of the law no flesh will be justified in His sight, for by the law is the knowledge of sin. (NKJ)

Romans 5:8-9 But God demonstrates His own love toward us, in that while we were still sinners, Christ died for us. 9 Much more then, having now been justified by His blood, we shall be saved from wrath through Him. (NKJ)

1 Peter 3:18 For Christ also suffered once for sins, the just for the unjust, that He might bring us to God, being put to death in the flesh but made alive by the Spirit, (NKJ)

Isaiah 53:5-6 But He was wounded for our transgressions, he was bruised for our iniquities; the chastisement for our peace was upon Him, and by His stripes we are healed. 6 All we like sheep have gone astray; we have turned, every one, to his own way; and the LORD has laid on Him the iniquity of us all. (NKJ)

4. We must believe and place our trust in Jesus Christ, God's Provision for sin and eternal life.

Faith alone in Christ alone is all that is needed to be saved!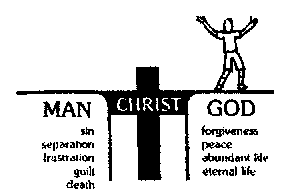 Acts 16:30-31 And he brought them out and said, "Sirs, what must I do to be saved? 31 So they said, "Believe on the Lord Jesus Christ, and you will be saved, you and your household." (NKJ)

John 3:16 For God so loved the world that He gave His only begotten Son, that whoever believes in Him should not perish but have everlasting life. (NKJ)

A decision has to be made as we hear God's Good News

John 3:18 He who believes in Him is not condemned; but he who does not believe is condemned already, because he has not believed in the name of the only begotten Son of God. (NKJ)

John 3:36 He who believes in the Son has everlasting life; and he who does not believe the Son shall not see life, but the wrath of God abides on him. (NKJ)



(c) 2000 Rev. Paul R. Schmidtbleicher, Th.M.
---
SCRIPTUREMAN.COM Homepage