Eight Things Declared to Be the Will of God
God's Will Found in His Commands
04-30-2006


Introduction

God has a Plan and a will for our lives as believers. It is clearly stated in the Scriptures that the Lord wants us to understand His Will and be guided and directed by it. (Isa 58:11; Eph 5:17)

God's Command to Know His Will

The command of the Lord is for us as believers to understand the will of God for our day by day lives:


Eph 5:17 Wherefore be ye not unwise, but understanding what the will of the Lord is.


We are commanded not to be unwise, but to be wise in learning WHAT IS God's Will for our lives. It must be understood that if the Lord commands us to come to understand His Will, then it IS POSSIBLE for the believer to have a broad understanding of God's Will as well as a day by day detailed understanding and definite leading in specific areas.

As believers we start by learning the Will of God in its broadest areas as it applies to all believers. These broad areas begin with what is declared to be God's Will and continues by adding the various commands we find in the Scriptures.

A broad understanding then leads us to come to know what God's Will for us is on a daily basis. In that context, the Lord can give specific leading and direction for the "harder" decisions we face both daily and in the "long term."

God's Promised Leading

The promise of the Lord for those who walk with Him is that He will lead His saints and care for them on earth.


Isa 58:11 And the LORD shall guide thee continually, and satisfy thy soul in drought, and make fat thy bones: and thou shalt be like a watered garden, and like a spring of water, whose waters fail not.


As a believer in the Lord Jesus Christ, you are not alone. The Lord has promised guidance to His own. He desires the believer to know His Will and be guided by it in life. Our way has been planned. The events that will take place in our lives are known by the Lord and entered into His Plan. The effects of a sinful and rebellious world in our lives has been planned for by the Lord. Everything is working together for God's ultimate goals of conforming us to the likeness of Jesus Christ (Rom 8:28, 29).

The guidance of the Lord is directed by the Holy Spirit within making use of the Scriptures and knowledge of God's Word in the soul. In this, we have even further assurance of our being "sons of God."


Rom 8:14 For as many as are led by the Spirit of God, they are the sons of God.


It is clear from God's Word that He wants us to understand His Will. It is clear that He has promised to guide us and that this leading is given to the Holy Spirit. If we can and are to know the Will of God, the question remains, "What is His Will?"

The General Principles of the Will of God

The Scriptures outline in a number of verses principles that are known to be the Will of God. These principles are broad and apply to all believers. The place to begin to know the will of God is with the specific passages of Scripture which are stated to be the will of God without question.

1. It is God's Will that every person should change their minds about their sin and Jesus Christ as God's provision to be saved (2 Pet 3:9; 1 Jn 3:23; Jn 6:40).


2 Pet 3:9 The Lord is not slack concerning his promise, as some men count slackness; but is longsuffering to us-ward, not willing that any should perish, but that all should come to repentance.


One of the reasons for the longsuffering of God is because His will is for all to have enough time to come to a change of mind concerning the Savior. It is God's Will for you to trust in Jesus Christ as Savior. This is actually the first step in the Plan of God for life - Believe on the Lord Jesus Christ! The Lake of Fire was not originally prepared for men, but for Satan and the rebellious angels who followed him. (Matt 25:41) Unfortunately, if people choose to disregard the will of God in salvation, they will spend their eternity in the Lake of fire.


Jn 6:40 And this is the will of him that sent me, that every one which seeth the Son, and believeth on him, may have everlasting life: and I will raise him up at the last day.


God's clearly stated will is for us to believe in Jesus Christ; be given eternal life and be participants in the resurrection unto life. It is to that end that the command to believe is given in Scripture.


1 Jn 3:23 And this is his commandment, That we should believe on the name of his Son Jesus Christ, and love one another, as he gave us commandment.


2. It is the will of God for every believer to progress in their being set apart from sin and evil and unto the Lord: sanctification (1 Thess 4:3).


1 Thes 4:3 For this is the will of God, even your sanctification, that ye should abstain from fornication:


God's Will for us is stated directly: We are to be in the process of sanctification or being set apart unto the Lord: positionally; progressively; and ultimately.

Set Apart at Salvation:As seen in the accompanying diagram, Four circles represent what happened at salvation. We moved from unsaved by faith in Christ to a new "position" in Christ. The blue circles represent our position in His Eternal Life and well as position in being "crucified with Christ" meaning our position of being dead to the power of sin and the eternal penalties for violating His laws. The yellow circle represents our new experience of living the Christian Life where being set apart from the old life ("old man") and onto the new life ("new man") in Christ takes place.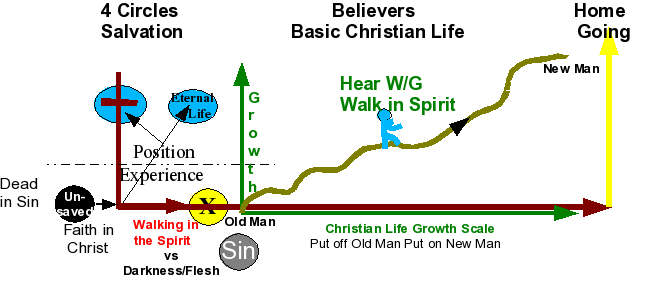 Set apart in the Basic Christian Life:After salvation, Sanctification or being progressively set apart is the next step in the known will of God. We are to continue to become more and more set apart from our sin, evil, and non-biblical thinking summarized by the phrase "old man" AND UNTO the Lord Jesus Christ in His life and thinking summarized by the phrase "new man" (Ephesians 4:22-24; Colossians 3:9-10). This is called Progressive Sanctification. We grow and progress by (1) coming under His Word and learning its teachings, believing them by modifying our thinking and our actions in life, and by (2) walking in the Spirit acknowledging our failures to the Lord when we choose against His principles and teaching in God's Word.

Practically speaking, this means that this one aspect of the KNOWN WILL OF GOD involves SPECIFIC THINGS that can be known everyday! It involves our daily decisions in life.

Set Apart Ultimately: The final stage of our Sanctification is at the Resurrection when we gain a Resurrection Body like that possessed by the Lord Jesus Christ Himself and we will be set-apart like him in body as well as soul..

3. It is God's Will for every believer to be doing the known Will of God as servants carrying out the will of their master. Eph 6:6; 1 Jn 4:24

As various aspects of God's Will are learned and understood, they need to be incorporated into our lives. The will of God is not something simply to be known, but it needs to be acted upon as we live the Christian life.


Eph 6:6 Not with eyeservice, as menpleasers; but as the servants of Christ, doing the will of God from the heart;


It is possible to simply try to please a parent, a Pastor, a teacher or friends and miss the will of God. It is the Lord God that we are to obey. It is His Will that needs to be followed. In every way we need to develop the attitude and viewpoint that we are doing God's Will unto Him as pleasing Him.


1 Jn 3:24 And he that keepeth his commandments dwelleth in him, and he in him. And hereby we know that he abideth in us, by the Spirit which he hath given us.


As believers, if we keep the commandments of the Lord, we are doing the KNOWN WILL Of GOD and are living (dwelling) in His will. it may seem a simple, straight-forward and common things, but it is true. The best way to be in the Known Will of God is to hear and understand His commands and then "keep" them! When these basic aspects are followed, we find ourselves in a place to meet the larger decisions in life and understand what is the Will of the Lord in these areas.

4. It is God's Will that we approach each circumstance in our lives with thankfulness and thanksgiving. 1 Thess 5:18.

The Lord is aware of every circumstance that will enter into our lives for blessing, for testing, for discipline, and for future advancement. Nothing "catches the Lord by surprise." He uses every circumstance as a part of His all-encompassing plan to bring each one of us to be like the Son, the Lord Jesus Christ


1 Thes 5:18 In every thing give thanks: for this is the will of God in Christ Jesus concerning you.


It is for this reason that it is God's Will that we be thankful for everything that comes our way. It is easy to be thankful for the blessings, but we are to give thanks for the trials and testings as well as the "spankings" we receive for making wrong and bad decisions. They show us the care of our heavenly Father.

As believers, the ability to give thanks for all the things that happens to us is a part of our growing up in our faith. You have to personally realize that the Lord's ultimate will for you is that you are being made to be like Jesus Christ in thinking, actions, and responses.

5. It is God's Will that we come under testing, trials, even suffering as a part of growing spiritually to be conformed to the image of Jesus Christ. 1 Pet 3:17


1 Pet 3:17 For it is better, if the will of God be so, that ye suffer for well doing, than for evil doing.


The will of God is connected with suffering. It is better to suffer for well doing (having done everything right) than for evil doing (having done things wrong and receiving the "spanking" for punishment). The word, suffering, is rather negative to our thinking. The actual word means "to suffer, be under great pressure or testing." Lets consider the Bible illustration of Running a Race: If you are a runner there are a number of things that you do to prepare for the race. First you must eat right - good foods, balanced, and consistently. Second, you must exercise to build up the various parts of the body - leg muscles, etc.. Then, you must practice for the race. Here is where "suffering" or pressured testing begins. You start to use the food you ate. The regular exercise shows up compared to others who did not exercise. As you do practice runs, you begin to push yourself to shave off extra hundredths of seconds. It hurts! You may be suffering. The muscles may ache, but the goal is the victory, the win. As the race is finally run, you push all out! The pressure, the suffering as you pound down the final stretch to finish first may be intense, but the goal is worth it. You want to do it. It builds you up for the next race that will be even bigger.

Some sufferings will be brought on ourselves and are actually "spankings" for not following the principles of God's Word. Even in these, the Lord is trying to teach and guide us back towards the goal of eternity - to images of His perfect son, Jesus Christ and joint heirs of all blessings together with Him.

In every pressure, trial, or suffering, the Lord has pre-planned for your benefits, your victory, and advancement. It builds your character, corrects your bad areas, and molds us close to the image of Christ.

The will of God for our testings is something that must come to be understood as positive and life building to us. It is not to be feared any more that pushing ourselves as runners prior to the race and in the race, suffering for the victory.

6. It is God's Will that we be productive as believers producing good works. 1 Pet 2:15.

When the believer trusted in the Lord Jesus Christ, He was entered into the all-encompassing Plan of God. We are sons and daughters of the Lord and left here upon the earth to carry out special parts of His Plan for this world. Part of His Will is that we live lives that reflect our position as members of His family.


1 Pet 2:15 For so is the will of God, that with well doing ye may put to silence the ignorance of foolish men:


As a believer, you represent the Lord upon the earth. This part of the known will of God is speaking of our life witness. The things which we do should have a direct reflection on what we say. In 1 Peter 2:15, the ignorant foolish men are those who have rebelled towards God and hate His Word. They don't think that it makes any difference as to whether we believe the Lord and His Word or not. They may think that your faith is "foolish." This is the basis of God calling these persons "ignorant." On the other hand, as your faith in the Lord Jesus Christ and in the Word of God bears the fruit of "good works" production, the "bad-mouthing" of those who reject the Word of God is put to rest.

It is important to realize that the good works spoken of have NOTHING to do with our salvation. We are saved by the Grace of God through our personal faith/belief in the Lord Jesus Christ with absolutely no human works involved. After salvation, as a result of growing in God's Word, proper application means that there will be good works in our lives: right attitudes, proper actions, and growing production. Some good works involve representing the Lord Jesus Christ in witnessing. Some involve decisions and actions which uphold God's plan in our lives as well as upon the earth.

7. It is God's Will that we trust in Him to guide us and direct our paths. Prov 3:5-6.

In every situation which the believer faces there will be counsel from many directions and advice as to how to handle the situation. God's Will is that we first and last seek His advise and counsel and allow the Lord to direct our paths.


Prov 3:5 Trust in the LORD with all thine heart; and lean not unto thine own understanding.

Prov 3:6 In all thy ways acknowledge him, and he shall direct thy paths.


Our own understanding is clouded by sin. The viewpoints which we develop without the Lord or from the world, are human viewpoints that may "seem" to be right, but in the end lead away from life and unto death. On the other hand, the principles learned from the Lord and His Word are principles which bring life. The will of God challenges us to TRUST in His Ways. We are challenged to acknowledge the Lord for the directions which we should take in life. This means that for the various situations we face, we are to resolve them, face them, or handle them in God's Way and trust the Lord to take care of His part.

In every area of life, the Lord as Creator has right and proper ways to deal with life and the life situations which develop before us. Trusting in the Lord involves discovering as a matter of first choice what He has to say in each particular situation and then proceeding to apply it by doing "it" His way.

8. It is God's Will that we follow the leading of the Holy Spirit and pray according to His Will. Rom 8:27

Many times the prayers of believers appear to go unanswered to us, when, in fact, God has answered them with a no because we are praying for things contrary to the clear will of God. The Holy Spirit prays on behalf of us according to God's Will. It is also God's Will that we seek to discover His Will and then pray for it in our lives.


Romans 8:27 And he that searcheth the hearts knoweth what is the mind of the Spirit, because he maketh intercession for the saints according to the will of God.


The details of this are most important because the Holy Spirit is praying for God's Will to take effect in your life. If we pray in accordance with the Will of God, the Spirit is interceding for the very things for which we are praying. On the other hand, if we are asking for that which is not the Will of God, we are working against the Spirit of God.

Beyond the Broad Known Concepts of God's Will

The Scriptures reveal to us the eight areas of the will of God just studied. They are God's Will for all of us because they are stated to be God's Will in no uncertain terms. Each of the eight areas that have been studied are to be understood and then applied on a daily basis to our lives:

-Salvation: The Lord's Grace is open to all we see and meet.

-Sanctification: Each day decisions should be made to shun sin and evil and yield to the biblical principles of God's Plan.

-Knowing God's Will: The Lord wants us to know His Will and on a daily basis we need to seek it in every area of life. Which way should I go? should be our prayer.

-Thanksgiving: Realizing God's Plan includes all, we need to be thankful for all on a daily basis.

-Sufferings: Sufferings are what really builds our faith. As we face them daily, let us look to see how we can use His Word, our faith within, and make good decisions.

-Production: The Lord wants us to produce good works. As we learn what they are generally, we need to be in fellowship and doing what He asks!

-Trust & Direction: Daily, moment by moment trust is what we are to cultivate in our souls towards the Lord - Not just trust for when we would die.

-Prayer in His Will: Our desires and ambitions should be according to His Will and we should pray along those lines.

Biblical Additions to the Known Will of God
The commandments found in the New Testament


Beyond these eight things, every command (Imperative) given in the New Testament Letters or Epistles can be added to what the believer can know about the will of God. Therefore as a part of coming to know these commands, as these epistles were studied verse by verse and line by line, a second round was to go through them and "cull" out all the imperatives (commands). The following PDF files try to set forth these commands giving brief understanding of their context. As such, these imperatives were commanded to the believers to whom they were written and also have applicational bearing on aspects of the Lord's Known Will for all believers.

The following files layout the Biblical Imperatives given in New Testament books and give more details into the known will of God for Believers. The files are in PDF format (Portable Document Files) and may be viewed and/or downloaded by saving the link to your own computer

Commands to Believers by the Lord in the Epistles (letters) of the Apostle Paul

Commands in Romans
Commands in 1 Corinthians
Commands in 2 Corinthians
Commands in Galatians
Commands in Ephesians
Commands in Philippians
Commands in Colossians
Commands in 1 Thessalonians
Commands in 2 Thessalonians
Commands in 1 Timothy
Commands in 2 Timothy
Commands in Titus
Commands in Philemon


Return
---
SCRIPTUREMAN.COM Homepage