Temptation & Choices
©1985,1991,2001 Rev. Paul R. Schmidtbleicher, Th.M.
A Study of God's Power in Choices in the Face of Temptation

INTRODUCTION:

As Believers, sin is an ever present problem in our lives. God has given a number of provisions in order to have maximum victory over sin. Sin is not to drag us down nor is it ever to become the major thrust of the Christian Way of Life. God has a much more important and all encompassing plan set before us. Sin is not a part of it but a hindrance to advance. Therefore it is important to realize God's provisions for temptation and the choices set before us.

1. Definition: God in His Plan has made provision for the temptations confronting the Believer. His provisions are available if choices are made to use them.


1.1 All of God's provisions are obtained through the intake, belief, and application of His Word as it is placed in the mind and heart. 2 Cor 10:3-6


2 Cor 10:3 For though we walk in the flesh, we do not war after the flesh:

2 Cor 10:4 (For the weapons of our warfare are not carnal, but mighty through God to the pulling down of strong holds;)

2 Cor 10:5 Casting down imaginations, and every high thing that exalteth itself against the knowledge of God, and bringing into captivity every thought to the obedience of Christ;

2 Cor 10:6 And having in a readiness to revenge all disobedience, when your obedience is fulfilled.


The most important concept to remember is that "the weapons of our warfare are not fleshly but mighty through God to the pulling down of strongholds"

1.2 The choices we make towards God's provision at times of temptation are the determining factor in victory or defeat. 2 Cor 11:3 Example


2 Cor 11:3 But I fear, lest by any means, as the serpent beguiled Eve through his subtilty, so your minds should be corrupted from the simplicity that is in Christ.


Satan is very subtile in seeking to tempt us to make the wrong choices in the daily decisions which we face. The study of Satan's original attack on the woman (Hebrew: 'ISHAH) shows his subtilty.


2. God is personally aware of all the temptations we face through the experiences of the Lord Jesus Christ. Heb 4:15


Heb 4:15 For we have not an high priest which cannot be touched with the feeling of our infirmities; but was in all points tempted like as we are, yet without sin.


As our High Priest, Jesus Christ knows all the temptations we face, for he "was in all points tempted like as we are, yet without sin." We are not being tempted with temptations unknown by the Lord nor temptations greater than He faced.

2.1 Jesus Christ faced 3 specific areas of temptation as His ministry was begun. Matt 4:1-11


2.1.1 Stones to Bread tempted his obedience to God above physical need. Matt 4::1-4

2.1.2 Jumping from the temple pinnacle was a temptation to tempt God and force Him to do Jesus's Will (OUR WILL). Matt 4:5-7

In tempting God we place ourselves over and above God and have Him do His "tricks" much like a trained animal. It is sin. God is God and we are His creatures. He tells us! We don't tell Him!

2.1.3 Bowing before Satan to gain world rulership was a temptation to avoid the cross and take the easy way out. Matt 4:8-11

2.1.4 The three temptations of Jesus represent the most powerful kinds of temptations we will ever face in life:

-Temptation to Meet needs and desires apart from the Plan of God.

Whether the desires are monetary->steal; sexual->fornicate or sex of some type outside of marriage; for power, etc., Jesus faced it in the bread temptation.

-Temptation to in some way seek to force God to do our will.

If I win the lottery, I will give You your share; If I give, You had better double my business; etc.

-Seeking to get out of or around some hard, unpleasant task by taking an easy way out.

Gamble rather than work for wealth; lie rather than tell the truth; or run from responsibility and error; etc.


2.2 The Daily life of Jesus was met with temptations from many areas.

Jesus dealt with rich men and could have become rich. He dealt with prostitutes and could have succumbed. He ate and drank and could have abused these things. He met opposition, and could have lost his temper, spoken out in improper anger, etc.

2.3 Therefore, our God is personally aware of all the temptation we face and more.


3. The Sources of Temptation are listed in the Scriptures as three: World (1 Jn 2:16); the Sin Nature (Rom 6-7); Satan (1 Thess 3:5; 1 Pet 5:8)

CHARTING THE UNBELIEVER

3.1 The World makes its appeal unto man through the Sin Nature. 1 Jn 2:16


1 Jn 2:16 For all that is in the world, the lust of the flesh, and the lust of the eyes, and the pride of life, is not of the Father, but is of the world.


From the world system, the "Lust of the flesh, Lust of the eyes, & the vain glory (pride) of life" appeals to various areas of the sin nature to tempt the believer to sin.

3.2 Satan attacks us by way of the Sin Nature. Jn 8:44


Jn 8:44 "... Of the father, the devil and the lusts of the father we will do."


The sin nature is the conduit through which the direct temptation attacks of Satan will come to the believer. He also uses outward opposition, but the inner attack comes through the sin nature.

3.3 The Sin Nature has by itself a whole pattern of sin and rebellion. Gal 5:19-21; Rom3:10-18


4. God's major foundational provision for dealing with temptation is our salvation position of being "baptized" into the death of Christ. Rom 6:3; 3-14


Rom 6:3 Know ye not, that so many of us as were baptized into Jesus Christ were baptized into his death?


Identification with the death of Christ as a result of the Cross is the way in which God has chosen to handle the power of the Sin Nature and our bondage to it. At Salvation, the new believer is identified with both the life and the death of Jesus Christ as far as our "position" through being baptized into by the Holy Spirit into the body of Christ (1 Cor 12:13). At the same time, the believer is experientially indwelt and filled with the Holy Spirit. The filling can be temporarily lost when the believer sins and regained by the "mechanic" of confession.

This baptism/identification into the death of Christ severs the power of the Sin Nature thus severing Satan's entry into life as well as that of the world system.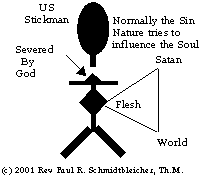 4.1 Baptism into the death of Christ places us into a position of being dead to the power and authority of the Sin Nature. Rom 6:6-7


Rom 6:6 Knowing this, that our old man is crucified with him, that the body of sin might be destroyed, that henceforth we should not serve sin.

Rom 6:7 For he that is dead is freed from sin.


The ultimate result is that we do not have to serve sin.

4.2 As we are counted as dead to the Sin Nature, we are released from its authority and all the powers of evil that gain access through it. Rom 6:7


Rom 6:7 For he that is dead is freed from sin.


The power is CUT. There is no need to serve sin, Satan, nor the world system. We serve only as we make bad choices for sin.

4.3 This is part of our salvation package and occurs at the moment of salvation. Rom 6:3-4


Rom 6:3 Know ye not, that so many of us as were baptized into Jesus Christ were baptized into his death?

Rom 6:4 Therefore we are buried with him by baptism into death: that like as Christ was raised up from the dead by the glory of the Father, even so we also should walk in newness of life.


This whole doctrine is identification with Christ in His death.

4.4 In our Christian Walk, we are to believe this truth and are commanded to apply it, constantly considering ourselves dead indeed to the Sin Nature. Rom 6:11


Rom 6:11 Likewise reckon ye also yourselves to be dead indeed unto sin, but alive unto God through Jesus Christ our Lord.


This is the central promise that is the basis of our victory over sin on a continuing ongoing basis. It can be called a "Personal Dominion Mechanic."

4.5 As the Personal Dominion Mechanic of Romans 6:11 is understood and in place, handling temptations properly becomes a matter of making easy choices for the Lord. Rom 6:12,13,16


Rom 6:12 Let not sin therefore reign in your mortal body, that ye should obey it in the lusts thereof.

Rom 6:13 Neither yield ye your members as instruments of unrighteousness unto sin: but yield yourselves unto God, as those that are alive from the dead, and your members as instruments of righteousness unto God.

Rom 6:16 Know ye not, that to whom ye yield yourselves servants to obey, his servants ye are to whom ye obey; whether of sin unto death, or of obedience unto righteousness?


5. Because the Sin Nature resides within us at the present time, we will be constantly subjected to temptation from it.

Temptations from Satan, his henchmen, and the World System come through the Sin Nature to present themselves before us.


5.1 The Sin Nature will seek to regain a position of authority in life by temptation. Ja 1:13-15


Jas 1:13 Let no man say when he is tempted, I am tempted of God: for God cannot be tempted with evil, neither tempteth he any man:

Jas 1:14 But every man is tempted, when he is drawn away of his own lust, and enticed.

Jas 1:15 Then when lust hath conceived, it bringeth forth sin: and sin, when it is finished, bringeth forth death.


Many of the temptations we face are the result of Sin Nature patterns built up over the years seeking to reassert themselves. THEY DO NOT HAVE AUTHORITY, ONLY FAMILIARITY AND A VOICE CALLING OUT.

The familiar calling back to sin along with a lack of authority in the sin nature since salvation is what the believer should expect to face. By being "identified" in the death of Christ, you do not have to listen. It the difference between a police officer saying halt (authority) and a bum yelling for a handout (no authority but a loud voice).

The pattern here in James 1:13-15 is (1) Lust patterns being courted; (2) He is "drawn out" and "enticed;" (3) Success in drawing out and enticing conceives sin.

5.2 Satan will continue to try and reassert himself upon us. 1 Pet 5:8


1 Pet 5:8 Be sober, be vigilant; because your adversary the devil, as a roaring lion, walketh about, seeking whom he may devour:


The command is to be serious and vigilant about Satan and his henchmen's part in enticement to sin. Satan's attack comes through the sin nature. His temptations are in all Sin Nature areas. Remember that he is a powerful BUT DEFEATED foe.

5.3 The World System also will continue its attack as voices of familiarity or "change," yet WITHOUT AUTHORITY. 1 Jn 2:16


1 Jn 2:16 For all that is in the world, the lust of the flesh, and the lust of the eyes, and the pride of life, is not of the Father, but is of the world.


The world system contains many areas of temptation. Three major areas are mentioned in 1 John 2:16: The flesh - the many varying and (kinky) sin natures in which lust dwells; The eyes that see many aspects of the world potentially call forth lust; and the world or "vain glory" side of life to compete lustfully in the world, to have materially, to experience sensually, and to attain stature and importance.

The attacks from the world are in many areas designed to stir up lusts and lust patterns of the sin nature. The believer is to be in the world, but not of the world.


6. God's second provision built upon the foundation of being dead to the Sin Nature is that all temptation is limited to our ability to handle it. 1 Cor 10:13 -> A MOST IMPORTANT Verse


1 Cor 10:13 There hath no temptation taken you but such as is common to man: but God is faithful, who will not suffer you to be tempted above that ye are able; but will with the temptation also make a way to escape, that ye may be able to bear it.


We learn that (1) All temptation is COMMON, (2) God is FAITHFUL, (3) He LIMITS the temptation, and (4) He makes a WAY OF ESCAPE. This promise is accessed by our making the proper decisions at the point of temptation.


6.1 There is no special super temptation that we will be subjected to as Believers.

All temptations are "old hat." The Lord faced them and knows of them. Others have also faced them. We are promised that our temptations are not a special case and thus impossible to handle. There is no room for this "cop-out!"

6.2 God is immutable and unchangeable and will always be faithful to His Word and His provisions against our temptations.

Because of the faithfulness of God, we can not only learn this promise and claim it, but COUNT ON IT as we face temptation.

6.3 God in His faithful care limits all temptations to our ability as growing and advancing Believers.

Neither Satan, the World, nor our Sin Nature can exert more pressure than the ability of God, given to us to handle these temptations. God is God, greater than Satan. He has greater provisions than our temptations. Failure to handle temptation is not due to lack of provision!

6.4 A part of God's provision when under temptation is a way of escape.

As we choose to utilize and apply God's Provisions, He includes ways to escape: some begin with right decisions; some are the application of other principles; and some may be supernaturally provided in Grace.

Examples: Joseph applied the principle of fleeing from Potipher's wife. Balaam was tempted to prophesy when God enabled his donkey to speak.

6.5 Therefore, when we do not handle temptation and succumb, it is a result of our OWN BAD DECISIONS. (Again -> Our OWN bad decisions)

When we make decisions which choose for temptation and against God, we do not call upon His provisions, so we are the ones who "blow it."


7. The General Provisions available for use in temptation are God's Word internalized and the power of the Holy Spirit. Heb 4:12; Acts 1:8; Eph 3:16; 2 Tim 1:7; 3:5


Heb 4:12 For the word of God is quick, and powerful, and sharper than any two edged sword, piercing even to the dividing asunder of soul and spirit, and of the joints and marrow, and is a discerner of the thoughts and intents of the heart.

Acts 1:8 But ye shall receive power, after that the Holy Ghost is come upon you: and ye shall be witnesses unto me both in Jerusalem, and in all Judea, and in Sa-ma'-ri-a, and unto the uttermost part of the earth.

Eph 2:16 That he would grant you, according to the riches of his glory, to be strengthened with might by his Spirit in the inner man;

2 Tim 1:7 For God hath not given us the spirit of fear; but of power, and of love, and of a sound mind.

2 Tim 3:5 Having a form of godliness, but denying the power thereof: from such turn away.


The greater our knowledge, belief, and application of God's Word, the greater our capabilities as mature Believers. We have the resources which we can draw upon and use to meet every temptation and all types of temptation.

The Holy Spirit will guide us along the lines of the Word of God "stored" in the Soul. He will place the necessary principles and concepts before us so that we can choose. If we make positive and right choices, He will enable us to stand!

8. The Specific Provisions for handling the various areas of temptation.

God has a number of specifics given in His Word by principle and example in how we are to meet certain temptations with Biblical Choices.


8.1 Temptations which fall under the category of "youthful lusts" are to be handled by fleeing. 2 Tim 2:22; 1 Cor 6:18; 10:14; 1 Tim 6:11


8.1.1 "Youthful Lusts" is used of general categories of temptation where the process of growth either spurns or enhances certain temptations. 2 Tim 2:22


2 Tim 2:22 Flee also youthful lusts: but follow righteousness, faith, charity, peace, with them that call on the Lord out of a pure heart.


Various stages of life see the enhancement of certain forms of lust and peak periods where specific types of lust tend to dominate. Youthful can refer to either physical age oriented lusts (teens, mid-age, etc.) or lusts attacking at certain younger stages of spiritual growth.

8.1.2 Sexual Lusts are to be handled by fleeing. 1 Cor 6:18


1 Cor 6:18 Flee fornication. Every sin that a man doeth is without the body; but he that committeth fornication sinneth against his own body.


-Sexual Lusts can involve Pornography (Choice: burn the magazines)

-Sexual Lusts can involve movies, video, and cable liberties. These are more and more prevalent and must be controlled. The choice of Scripture is to flee them. In a sinful world, it will not be obliterated but it can be forced/legislated out of sight and out of mind. The external controls will not eliminate the problem in those who have it, but it will put it back into the gutter and protect those who do not.

The Basic principle involved in fleeing is that of either removing self from its presence or removing it from the presence of self.

-Sex outside of marriage is to be handled by fleeing.

Sexual lusts are encountered at many levels of growth. As a young person begins to develop into maturity, normal biological drives also develop. Freud took the Latin term for "pleasure/lust" which is LIBIDO and used it to describe this process.

In reality, it is God waking up the body to become prepared for the Man He is preparing or the woman He is preparing for marriage. At this stage, the temptation is to fulfill those desires outside of Divinely-ordained marriage. This is handled by FLEEING.

As these drives have peaks in later life, they are also to be handled in the same way, by FLEEING.

GET AWAY. DESTROY BOOKS, MAGAZINES, PICTURES, MOVIES, VIDEOS, etc. [This is the major reason for any personal book burning as detailed in Acts 19:19]


Acts 19:18 And many that believed came, and confessed, and shewed their deeds.

Acts 19:19 Many of them also which used curious arts brought their books together, and burned them before all men: and they counted the price of them, and found it fifty thousand pieces of silver.

Acts 19:20 So mightily grew the word of God and prevailed.


8.1.3 Idolatry or Rival Religions are to be handled by fleeing. 1 Cor 10:14


1 Cor 10:13 There hath no temptation taken you but such as is common to man: but God is faithful, who will not suffer you to be tempted above that ye are able; but will with the temptation also make a way to escape, that ye may be able to bear it.

1 Cor 10:14 Wherefore, my dearly beloved, flee from idolatry.


Idolatry was the major form of religion which rivaled the worship of God in the Old Testament. The concept of Idolatry is that of a rival worship. It can be either a literal system or something which has been substituted for God.

-TEMPTATION: If we are tempted in this area, the solution is to flee from it. For our day, that means that if the lure of Humanism is leading away from Biblical Divine Viewpoint, you are to flee it!!

-TRAINING IN IDOLATRY: For young children: we do them a great disservice by placing them under the crusading missionaries for humanism found in many areas of government education. They are tempted as Eve, to be kings and queens - meaning their own gods. The smartest usually are the ones who succumb. The rest are manipulated by the control of the world system.

-PROMOTION OF IDOLATRY/RIVAL RELIGION: Currently, there are many avenues which promote some rival religion by chipping away at Biblical values. The reason is because the Believer has in time past given up leadership in these areas. We are flee the message of idolatry, but capture and make use of the the media which promotes it.

-CULTS and WORLD RELIGIONS: Knowledge in these areas is best fled until a firm footing of Biblical Faith is developed. Then the evils will not be temptations, but rival concepts to combat.

8.1.4 The Love of Money and Material Things is to be handled by fleeing. 1 Tim 6:10-11


1 Tim 6:10 For the love of money is the root of all evil: which while some coveted after, they have erred from the faith, and pierced themselves through with many sorrows.

1 Tim 6:11 But thou, O man of God, flee these things; and follow after righteousness, godliness, faith, love, patience, meekness.


This "lust" also peaks at various times in our lives. Initially, as we make and spend our first money, the desire arises to get and spend more upon ourselves. As marriage occurs, the desire to have houses, cars, furnishings, etc grows. Stemming from this lust can be envy and covetousness.

There is nothing wrong with the desire, only the temptation to acquire either money or things at the expense of God's Plan and His Word. To steal, encumber massive debt, run up unending charges, etc., involves sinning against clear Doctrinal Principles.

The solution is to flee: either remove self from the temptation or the temptation from self. For some that demands not shopping with money or "plastic" on them. Others will have to destroy their "credit cards" or lock them away. This only takes care of the OVERT SIN. The Mental Attitude Sins of the "love of money" must be handled by fleeing in the sense of not dwelling upon those lusts. (Make use of substitute thoughts as in Philippians 4:8). God alone can empower in this area if we seek his help.

8.1.5 Drunkenness, Drugs, and Gluttony are also in the lust category and are to be handled by fleeing. 2 Tim 2:22


2 Tim 2:22 Flee also youthful lusts: but follow righteousness, faith, charity, peace, with them that call on the Lord out of a pure heart.


Since the body becomes addicted to many of these substances (alcohol, drugs, food, sugar, caffeine, nicotine, etc.), it must first be purged of these substances. God has given many things to be used in moderation. MISUSE COMES FROM USING THE CREATION FOR PLEASURE OR PEACE RATHER THAN SEEKING IT'S PROPER PLACE UNDER THE AUTHORITY OF THE LORD.

-PURGE THE BODY: The equivalent of the FAST will purge the body. "Cold Turkey" is initially the hardest but in the end easier the drawn out battles with slow tapering off.

-FLEE: Decisions must be made afterward that flee the areas of bondage. Again, the Lord can and will empower as we truly seek his aid.


8.2 Temptations which attack Doctrinal Principles are to be resisted by Standing on those Doctrinal Principles. 1 Pet 5:8-9


1 Pet 5:8-9 Be sober, be vigilant; because your adversary the devil, as a roaring lion, walketh about, seeking whom he may devour: 9 Whom resist steadfast in the faith, knowing that the same afflictions are accomplished in your brethren that are in the world.


1 Peter speaks of Satan's attacks and how we are to confront them by resistance with our Biblical Doctrines of Truth. As Believers we learn that our Bible Doctrine constructs for us a shield of faith. Resisting attacks against our Doctrine demands the use of the shield. As Ephesians 6 instructs that we are to stand fast!


8.2.1 Worry and Fear are to be handled by resisting them with the principles of God's Word. 1 Peter 5:7-9


1 Pet 5:9 Whom resist steadfast in the faith, knowing that the same afflictions are accomplished in your brethren that are in the world.


The Believer knows that He is in the Plan of God. He knows that God has predetermined all things surrounding our volitional choices. In those areas where we can do nothing, we are to cast our cares upon the Lord and allow Him to handle the situation in accordance with His plan. We are to stand fast in doctrines pertaining to our being in His Plan, His care, His predestination, and His Fatherhood.

On the other side we must recognize that one of the chief strategies of Satan is to tempt up to doubt our position in the Lord's Plan and enter into fear and worry. Heb 2:15; 1 Pet 5:7-9


Heb 2:14 Forasmuch then as the children are partakers of flesh and blood, he also himself likewise took part of the same; that through death he might destroy him that had the power of death, that is, the devil;

Heb 2:15 And deliver them who through fear of death were all their lifetime subject to bondage.


8.2.2 The Believer is to Stand Fast in the face of Evil. Eph 6:13


Eph 6:13 Wherefore take unto you the whole armor of God, that ye may be able to withstand in the evil day, and having done all, to stand.


Evil is the opposing plan of Satan for exercising his rule on earth. It is composed of both counterfeit good and clear evil. The only way to detect evil is to be aware of the teachings of the Word of God. God's Divine Viewpoint stands opposed to evil.

The Believer, armed with these Biblical Doctrines, is to resist the temptations and lures to evil. Evil is defined further as "the way that seems right unto a man, but the ends thereof are death." (Prov 14:12) Many times it is the "easy way out." It may provide short term satisfaction, but will end in long term disaster.

THE BELIEVER IS TO RESIST/STAND AGAINST EVIL.

8.2.3 Sins of the tongue such as maligning, gossip, and judging are to be resisted with God's Truth. 1 Pet 2:21-23 (example); 3:8-11 (command)


1 Pet 3:8 Finally, be ye all of one mind, having compassion one of another, love as brethren, be pitiful (compassionate), be courteous:

1 Pet 3:9 Not rendering evil for evil, or railing for railing: but contrariwise blessing; knowing that ye are thereunto called, that ye should inherit a blessing.

1 Pet 3:10 For he that will love life, and see good days, let him refrain his tongue from evil, and his lips that they speak no guile:

1 Pet 3:11 Let him eschew evil, and do good; let him seek peace, and ensue it.


The Scriptures say that we are to refrain from sins of the tongue. James 2 speaks of our developing a maturing ability to control our tongue. Spiritual growth from maximum Bible Truth that has been internalized enables the Believer to refrain from this temptation. The Lord Jesus Christ provides a specific example of resisting the temptation of sins of the tongue.


1 Pet 2:21 For even hereunto were ye called: because Christ also suffered for us, leaving us an example, that ye should follow his steps:

1 Pet 2:22 Who did no sin, neither was guile found in his mouth:

1 Pet 2:23 Who, when he was reviled, reviled not again; when he suffered, he threatened not; but committed himself to him that judgeth righteously:


Knowing that the tongue is a great source of sin and that the consequences are a three time compounding of discipline should motivate the believer to resist this area of sin.

(The three areas of discipline are: (1) Judgment for the Mental Attitude Sin, (2) The Sin of Tongue itself, and (3) Taking of the discipline off the one being maligned. (Matt 7:1-2)


Matt 7:1 Judge not, that ye be not judged.

Matt 7:2 For with what judgment ye judge, ye shall be judged: and with what measure ye mete, it shall be measured to you again.


Triple discipline is not worth the sin no matter what the satisfaction. The believer should seek to resist this temptation.

8.2.4 The temptation to division and diverse doctrine is to be handled by steadfast resistance. Phil 1:27; 4:1


Phil 1:27 Only let your conversation be as it becometh the gospel of Christ: that whether I come and see you, or else be absent, I may hear of your affairs, that ye stand fast in one spirit, with one mind striving together for the faith of the gospel;

Phil 4:1 Therefore, my brethren dearly beloved and longed for, my joy and crown, so stand fast in the Lord, my dearly beloved.


We are to stand fast in the Lord, in the one illuminating Holy Spirit. At this point the temptation is that we strike out to make our own individual mark. We must be careful to anchor all thoughts to the foundational "rock" of God's Word.


8.3 Temptations involving False Doctrine or the Twisting of Scripture are handled by the quotation of Scripture in Doctrinal context. Matthew 4 examples.

Jesus was confronted with a variety of temptations from Satan. All were presented from the standpoint of twisting the Scriptures. Jesus answered Satan and stood against him by quoting the appropriate Scripture. In the first temptation, Satan was making bread and eating more important than the will of God. The Lord put food and God's Will in perspective. In the second temptation, Scripture would have been used to make God the Father do the will of the Son (tempting). In the third temptation, Scripture pertaining to the rulership position of the Lord was put forth with the blatant omission of the cross.

False doctrine is to be handled by quotation of Scripture in its Biblical context. False doctrine includes heresy, apostasy, and false doctrinal concepts. Each doctrine must have sound Scriptural foundations.


9. God promises us in His Word that He will rescue us from temptation if we turn to Him. Heb 2:18


Heb 2:18 For in the He himself hath suffered being tempted, he is able to succour (come to the aid of) them that are tempted.


One of the most wonderful promises of Scripture is the realization that God is able and will come to our aid when we are being tempted if we make the right choice to walk by means of the doctrines of God's Word. This promise is one that should be learned early in the Christian life.

10. The Believer can limit the temptations he faces by internalizing Biblical Truth to warn and speedy confession of sin when he fails. Luke 8:13; Gal 6:1

There is a certain amount of temptation which we are going to face while we live in this world and advance in our relationship with the Lord. God's Word informs us specifically how God Himself limits Satan's tempting (1 Cor 10:13).


1 Cor 10:13 There hath no temptation taken you but such as is common to man: but God is faithful, who will not suffer you to be tempted above that ye are able; but will with the temptation also make a way to escape, that ye may be able to bear it.


There are two other principles which when followed will effectively serve to limit our temptations.


10.1 Consistent and disciplined intake of the Word of God establishes doctrinal roots which limit temptation. Lu 8:13


Luke 8:13 They on the rock are they, which, when they hear, receive the word with joy; and these have no root, which for a while believe, and in time of temptation fall away.


The Lord told a parable of four soils and seed. The seed which had no root succumbed to the power of the temptation/testing. As we take in the Word, roots are established. These roots limit the strength of the temptation. A plant underdeveloped roots is swayed by the slightest of winds - small winds are large to them. A tree with strong roots views all these small winds as very limited and easily handled. So the Believer who develops strong roots in doctrine, to him, many temptations appear limited.

10.2 The Believer who remains out of fellowship after sin is more susceptible to temptation. Gal 6:1


Gal 6:1 Brethren, if a man be overtaken in a fault, ye which are spiritual, restore such an one in the spirit of meekness; considering thyself, lest thou also be tempted.


Temptation is limited by confessing sins and returning back into fellowship with the Lord. If we are tempted, sin, and fall: staying out of fellowship increases our temptations and decreases our ability to meet them with victory. Therefore a key to limiting temptation is to stay in fellowship or quickly confess sins after sinning. Don't nurse sorrow, failure, discouragement, or self-pity: GET RIGHT BACK INTO FELLOWSHIP. Jesus paid for the sin. Use the Biblical Truth that hads been internalized to once AGAIN turn from it.

To remain out of fellowship will increase temptation pressures upon us. The ability to make the right decisions is also limited. GET BACK INTO FELLOWSHIP.


11. Walking through the Mechanics of Temptations and Choices

STAGE SET: As a Believer you are in fellowship and out in the battle. You may be at home, at work, or anywhere.


11.1 TEMPTATION STRIKES

Either the Sin Nature (most typical), Satan, or the World System through the Sin Nature confronts the soul. An old life pattern, a new possibility, or being caught off guard. Two things occur: (1) The temptation comes from or through the Sin Nature; (2) The temptation confronts the SOUL (mentality, mind; emotion; volition). It knocks, it screams, it begs for consideration.

11.2 THE LEADING OF THE SPIRIT

For the Believer in fellowship, the Holy Spirit will lead with doctrine. He will throw up to us the Doctrinal Principle, Pertinent Scripture, or a combination.

BACKGROUND: The Holy Spirit will only lead us down roads we have laid with the Bible Truths we have internalized. Just as the body can only produce energy out of the food consumed (or stored), so the Spirit leads out of Doctrinal Truths in place in the soul.

At this point a conflict: Holy Spirit---> Volition <--- Temptation.

11.3 WE FACE AND MAKE THE CHOICE

Additional Doctrinal Provisions are brought to mind as Believers: (1) We don't have to serve the Sin Nature. The temptation is "common" and not beyond us. (2) God is faithful and will limit the temptation. (3) If we choose to obey God, He empowers and will provide a way of escape.

CHOICE: NO to God; Yes to Sin Nature --> you sin, get out of fellowship, possible discipline: USE CONFESSION of SIN

CHOICE: YES to God

11.4 THE CHOICE FOR GOD and THE FOLLOW-THROUGH

DETERMINE THE TYPE: The Holy Spirit will aid at this point in just how to handle this line of attack. (Proper weapon for the occasion)

Youthful Lusts --> Flee

Doctrinal/D.V. Principles --> Resist

False Doctrine/Scripture Twisting --> Quote Scripture

FOLLOW-THROUGH the Biblical injunction. As can be seen, a majority of the attacks of the Sin Nature Lusts can only be properly handled by fleeing. This involves removing self from their presence or their presence from self.

11.5 MOVE TO THE WAY OF ESCAPE

God promises for each temptation there is a "way of escape." It will be brought to mind by the Spirit or the circumstances we are in. We must choose to move towards the way of escape.

Such escape routes may be to leave, change a subject, get among a different crowd, get into a crowd, etc. For a young dating couple, doubling or moving among people may be a tangible way of escape.


Conclusion:

As believers there will be many temptations to meet, face, and stand-down. The Lord has provided all that is necessary. It is now up to us to use it! May the Lord be with you to enable your good decisions.

Return
---
SCRIPTUREMAN.COM Homepage